Recruitment
in the IT area
At QiBit we work daily in order to provide an excellent service in a constantly evolving market. Based on our knowledge of the job market, we find the best talent in the IT area, prepared to respond to your company's innovation and technology needs.
We adapt our methodologies
We adapt our methodologies to the recruitment needs of each client, never forgetting the rigor and quality that characterize us.
Additionally, we seek to take a proactive stance in identifying professionals in the job market by creating a talent pool for each key profile defined by our clients.
For a successful recruitment process you need:
Assess needs and goals:
• Diagnosis of the company's organizational culture and the market in which it operates;
• Needs assessment and profile definition (hard and soft skills);
Search:
• Disclosure of opportunities in different recruitment sources;
• Direct market research according to defined requirements and preferred targets;
• Analysis of the QiBit database;
• Networking & Referrals;
Selection:
• Semi-structured face-to-face interviews: assessment of hard & soft skills, and professional motivations
• Customized Assessment Center: application of aptitude and personality tests, skills interview, business case, among others
• Presentation of short-list: delivery of Evaluation Reports
• Monitoring the negotiation and presentation of the admission proposal to the selected candidate
• Client and candidate follow-up after admission

With over 110 years of combined expertise, Tack TMI are your global learning and development experts.

With Gi BPO Advanced Outsourcing we offer customised BPO & BTO solutions and advanced services to improve productivity, efficiency and competitiveness.
Through our temporary and permanent staffing services, we make companies' and people' journey easy and enjoyable: from job seach to candidate sourcing and workforce management.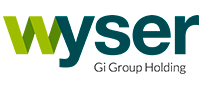 Wyser is the global Search & Selection player that wants to make a difference to people's lives and support organisations in growing their business.