Middle and Senior Managers
Search & Selection
Wyser is a global Search & Selection player for middle and senior management. We strive to make a difference in people's lives and provide support so you can grow your business.
For both our clients and candidates, we act as a partner, building a trusted relationship throughout the process and helping you envision unique opportunities into the future.
We are present in Brazil, Bulgaria, China, France, Hungary, Italy, Poland, Portugal, Romania, Serbia, Spain and Turkey where our consultants work with you to precisely understand your needs and how to get there.
Our global model is present across three continents and provides cross country solutions, international mobility programmes and partnerships.
We offer a consulting approach to recruitment with customer and need analysis, tailor-made design and implementation, and candidate management strategy.
We provide specialisation by job families (know-how and value generation) and sub-specialisation by industries.
Our main focus is on building long-lasting partnerships.
At Wyser, we are committed to matching growing companies with talented managers.
Our teams around the world are focused on specialisations, providing expertise in the following divisions:
• Sales & Marketing
• Finance & Accounting
• Information Technology
• Tax & Legal
• Technical & Engineering
• Banking & Insurance
• Human Resources
• Fashion & Luxury Goods
• Digital & New Media
• Office
• Oil & Gas
• Pharma & Medical Devices
• Retail & GDO
We offer custom-made solutions starting from a deep understanding of your business needs combined with our industry-specific knowledge.
Within the Search & Selection process we offer added value services such as headhunting, assessment centre and candidate market mapping.
We have a proven global business model and a proprietary methodology that support our customers' search and selection needs for middle and senior management around the world.
Our entire recruitment process is aimed at creating value for companies and the candidates we work with.
We understand each company is unique and has different recruitment goals.
Thanks to our expertise and flexible service offering, we tailor solutions and strategies that best fit your needs.
To attract candidates, we use several channels and the latest market trends, such as online and offline campaigns, social media, job boards and networking events.
Our goal is to assess and select the very best available candidates with a deep understanding of their hard and soft skills, and their motivation towards change.
We strongly believe in the benefits of long-lasting relationships. For this reason, we are used to asking our clients and candidates for frequent feedback, so we can constantly improve and get better in what we do, every single day.
Our assessment service allows organisations to pinpoint candidates' potential, enriching evaluations with meaningful feedback. At the present time, business models are changing at an extraordinary pace and one of the keys to an organisation's success is to have the right people in middle and senior management positions.
Our market mapping service is a business intelligence solution that provides you with critical data to support your organisation and the development of your company. Our market analysis provides a competitive benchmark on salaries, roles, main responsibilities and organisational structures.
The employer branding service provides our customers with a strategic talent acquisition campaigns aimed at attracting and engaging candidates, enhancing customer's brand awareness. The service deals with different strategies, tools and channels. The most suitable are the ones that widely raise the customer's brand awareness and operate a talent acquisition campaign for that specific target role and target audience.
Discover Wyser in the world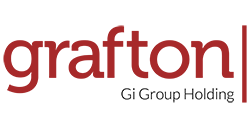 Professional staffing. For over 30 years, Grafton has delivered recruitment services, talent management and solutions for our customers across Europe.

With over 20 years' experience across the US, UK, Ireland and Italy, INTOO delivers high-touch, customised, people-focused programmes for business leaders, managers and employees around the world.
With over 110 years of combined expertise, Tack TMI are your global learning and development experts.

With Gi BPO Advanced Outsourcing we offer customised BPO & BTO solutions and advanced services to improve productivity, efficiency and competitiveness.

JobToME helps people get the right job and employers find the right employees, reducing economic insecurity for 'Blue Collar' workers around the world.

Through our temporary and permanent staffing services, we make companies' and people' journey easy and enjoyable: from job seach to candidate sourcing and workforce management.